My Uncle Mal bought me my first brand new proper skateboard for Xmas in 1990; a Frankie Hill Clint Eastwood board by Powell Peralta. I skated it to death, and gave it to a kid at the park. That board had a certain smell and feeling to it, I remember it vividly. To me it was the smell of skateboarding and now that I look back, it was probably also the smell of youth.

Fast forward to about 2001 and I decided that i would like to get that board back. I started looking around at garage sales, boot sales, flea markets, in the classifieds, and of course online; eBay, many, many hours, days, weeks months and years on eBay.

Finally in about 2006 I found one! It's a used one but nevertheless I got my sweet arse old Frankie Hill back.

Along the way I have developed an obsessive attachment to hunting and gathering skateboards, be it the artwork, the artist, the skater or whatever, chasing skateboards is alot of fun.

I thought I would start to share my collection with you all so here it is. If you have an old board that you think would fit in nicely with my family of timber then send me a message.

All the best, Troy




This ones a cracker too, the early 90's produced some amazing graphics and breathed alot of life into skateboarding.

New Deal Team Model, artwork by Andy Howell:




This is a sort after board, I wish it was unused but i'm still super stoked to have it. It's a Jason Lee Blind, David Bowie Tribute.




Took me a long time to find an unused Andrew Morrison New Deal. Finally this dude from the USA lost the plot and sold his New Deal Collection, i was lucky enough to grab this beauty.




Ed Templeton New Deal, sweet board, radical shape. Ed always does rad graphics in my opinion.




This is a gem, the super rare World Industries Randy Colvin Colvinetics, used but it displays really well. Slick also, which is dope in my books.




This is a cracker, a Frank Hirata SMA slick, the photo is by photographer Morizen "MOFO" Foche and it's finished in the glossiest slick i've ever seen.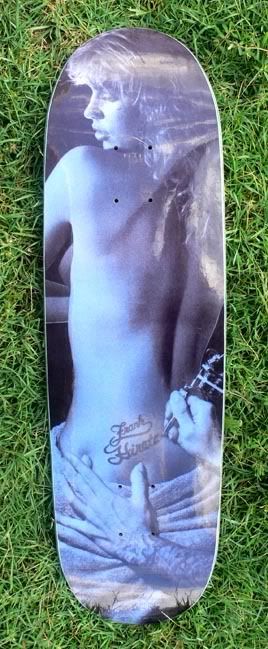 I have a thing for New Deal boards and i really like slicks. I can't say i am specifically a jordan richter stalker or anything but this board is rad.




This board is almost as important as the Frankie Hill. My second new board was this; the Alien Workshop Spectrum, (mine was a slick though), so many people had this board it wasn't funny. I bought this recently thinking it was a slick and unfortunately it turned up and it wasn't. Still rad though.




I have worked for Element Skateboards for a long tme now, before we were Element the brand was known as Underworld Element. Finding Underworld boards is next to impossible, especially in good condition. I scored this one in January 08, couldn't believe it! It's an Andy Howell.




This is cool, I bought this off Jeremy Klein recently, he has alot of old boards and seems like he needs cash right now. I guess it's from about 95, rad old Birdhouse vibe.




This is another one I got of Jeremy, a sweet old Flip team model from 94. I think this may have been in Flip's first run. It's got a couple of marks on it but it's some sweet history.




I got this a few years ago in a trade deal. At the time I was happy but over the years i've developed an attachment to this board. I think it's the rarity of MINT Mad Circle boards and the fact that the artwork is by one of my favourite artists; Barry McGee.





I got this a while back, can't remember exactly when, it's a Jason Dill 101, always been partial to 101 boards. Drew Barrymore has been a regular skateboard graphic subject over the years.





These next two Powell Peralta boards are a set: the first one released in 90 and the second one the year after. The graphics are done by the legendary Sean Cliver ( www.disposablethebook.com ) and the rider is of course Lance Conklin.




This board is pretty dope, it's a Chet Thomas Santa Cruz Hitman slick. Chet has been in the game a long time hey, this gem is from 1992.





This Powell Peralta was Bucky's first pro model, It released in 1990 and isn't the rarest board but it's still super cool. Bucky still absolutely rips of course, 18 years after his first model was released.




Good old Melbourne Surf Shop, i've picked up some cool stuff from them. This Hookups board is kinda cool cause it's one of the only one's i've seen that isn't an asian chick about to rip your head off or something etc.




Ray Barbee inspired the crap out of me when I was getting started with skateboarding, his little crack bonks and no complys kept me up at night. This is the only Barbee I have so far, i'll have to work on that hey.




My friend Ben Stephens owned a skateshop called the Hole, it was in Coolangatta QLD. I recently got this Workshop Rob Dyrdek slick from a garage sale about 15 minutes away, took the trucks off and there it was, a little price tag from the Hole, I would probably have been in the shop when it sold in about 1994.




This one is a little used but really rare. Andy Stone rode for Element back in the day so that's kinda why i was drawn to these next couple I guess. Capital is gone now but they had some cool boards out. The second one is mint and unused which i'm stoked about.





23 boards were the shit, the Hole had them and Sal Barbier was big time then, I mean he's a legend now of course but does anyone remember when he did the Grapevine in 411? A rainy day in Melbourne Surf a few years back turned up these couple of gems.






And here's something with a little more vintage; Sal Barbier Plan B Pollution slick.




Dave Carnie is a nut case, he ruled skateboarding throught the 90's with his crazy Big Brother magazine antics! Sometime in the 90's he started his own piss-taking brand called Whalecock and it was so good! He has pulled the cock out again and has the best blog ever: www.whalecock.blogspot.com - be sure to piss yourself with laughter sometime soon.




The KKK suck, quite frankly. This board just happens to rule though. Back when graphics were short lived and as head turning as possible! The skater is Jim Thiebaud and this is from Real, back when they were kicking off, around 1993.





Smolick is kickarse, not sure whether his rock skating is as good as his old shit but either way, he is one of the big wigs of the 90's for sure. Shorty's pro models died just recently which sucked but they have had some amazing stuff in their time.




Planet Earth Matt Schnurrslick ? Who the fuck is that? I saw a Matt Schnurr video part once and he was a ripper.




This is a gem, not sure if it's the original shape or or the slick on a newer shape but either way it's dope. It's an Alphonso Rawls H Street slick from about 94.





Platinum Team Model, signed by Tas & Ben Pappas (RIP), Jason Maxwell and Justin Bokma I think. The signatures are worn and shitty, and i'm not a fan of signed boards but nevertheless it's some gnar core style Platinum vibe for my pile of wood.




God Damn! Tom Penny is a fucking legend. If you skated through the 90's and didn't know about Tom Penny then you need to timewarp back and get onto it. This is a rare Tom Penny Flip board from 96, 12 years old and it's sweet to say the least.





Chris Pastras Stereo slick, Stereo have been around a long time. This thing is haggard but it's still super awesome.




Another gem, again it's a bummer it's used but nevermind. A John Montessi New Deal slick, I think the artwork is by Andy Howell but i'm not 100% on that.




Got this one really recently and it's super rare. A New Deal Mike Vallely in pretty good shape. Mike went from Powell to World then over to New Deal and so on during the 90's. He has ended up on Element now and still goes pretty hard.





Markovich was huge for us growing up, he was big in the Whiskey films and always had amazing lines. He skates so fast and i'm sure he still skates amazingly. This is a 101 Markovich slick. It displays really well but is cracked, someone didn't get much time out of it i guess. Always land on your bolts for happiness.




Tom Knox was at the Element YMCA camp a couple of years ago when we were there and he tore the bowl a new behind. He has been ripping for a long time. This slick is nice and unused. It's a Santa Cruz obviously with a big Tom Knox top graphic.




While I was trying to find a Frankie Hill Clint Eastwood I picked up this Picasso Ear model from 1990 or so. These are really common but still super rad, of course.




Here we go with some sweet Mad Circle action, this ones a Justin Girard slick and i'm not sure who did the artwork, maybe Barry McGee again. I'm going to try and find out. Nice board though hey.





Keep an eye on this blog while I continue to upload my ever growing collection.

All the best,

Troy